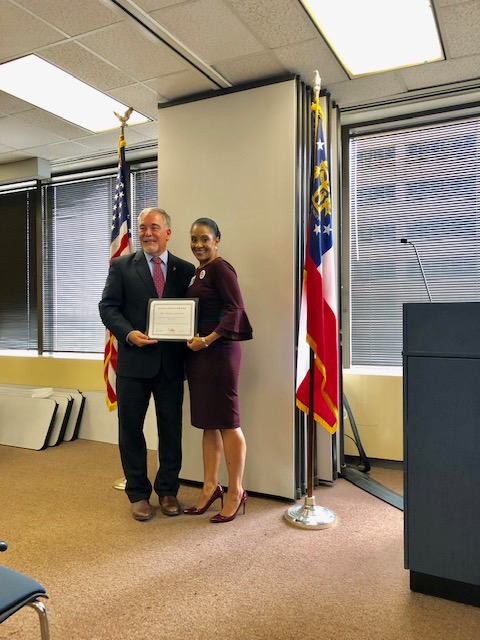 Phone: 478-929-7824,37201
Dr. Traci M. Jackson began her career as a public school educator and administrator over twenty-eight years ago. She is recognized as a National and State Award winning principal. She graduated from The Fort Valley State College (now The Fort Valley State University) where she reigned as Miss Fort Valley State College 85-86 and graduated with honors. Dr. Jackson received her Masters Degree in Middle Grades Education from Fort Valley State College and later Leadership Certification and Specialist in Education Degree from the University of Georgia, Athens. She received her Doctor of Education from Argosy University Atlanta in 2007. She received the distinguished honor of being named the recipient of the 2007 Student Government Leadership Award from Argosy University.
Dr. Jackson was recognized as one of seven principals in the United States to receive the 2011-2012 Terrell Bell Award (named after the Secretary of Education) by United States Department of Education and National Association of Elementary School Principals for outstanding leadership and archived as the First Principal in the State of Georgia to receive this distinct honor. Shirley Hills Elementary has also been recognized six times as a Georgia Title 1 Reward School for High Performing and High Progress.
Other accolades include 2012 Georgia Outstanding Woman in Education Recipient, 2012 and 2018 Georgia Distinguished Principal, 2012 Georgia Association of Educational Leaders President's Professional of the Year, 2012 Distinguished Alumna in Academic Service from Fort Valley State University and 2013 National Principal Mentor by the National Association of Elementary School Principals. Dr. Jackson is the first recipient of The 2018 Dorothy I. Height Leadership Award for Educational Development from the Warner Robins Alumni Chapter of Delta Sigma Theta Sorority, Inc. She is a member of First Baptist Church Garmon Street, Warner Robins Alumni Chapter of Delta Sigma Theta Sorority Inc. and is an active member of numerous educational organizations.
Dr. Jackson became a published author in April of 2019.